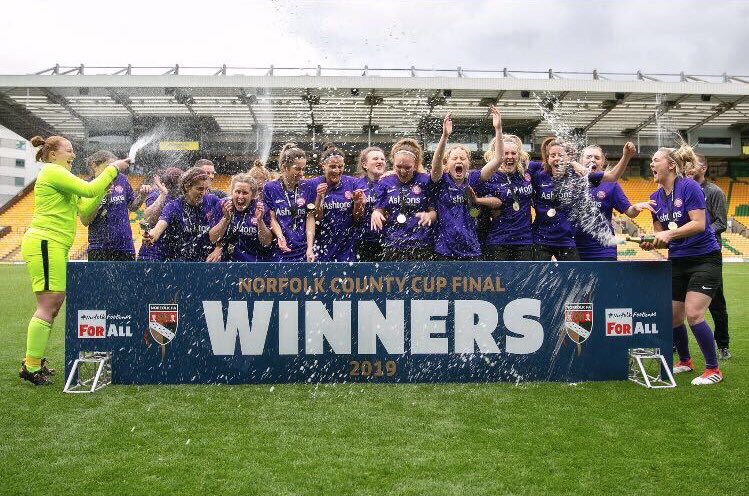 WOW! Congratulations Wymondham Ladies – They've Done it Again!
Wymondham Ladies Retain the Norfolk County Cup🏆
🍾Congratulations Wymondham Ladies!
What a season it's been for Wymondham Town Football Club Ladies Team, with a fabulous Norfolk County Ladies Cup Final WIN at the weekend.
Wymondham Ladies played their Norfolk County FA Cup Final on Sunday 28th April 2019 against Kings Lynn Ladies at Carrow Road, and they won, again! 😀
They finished the game 4-1 and retained the Norfolk County cup for a second season in a row ⚽️⚽️⚽️⚽️🏆🥇
Tailor Made Resources were at the game to support the ladies and loved every moment, as did the other Wymondham Town supporters. 
📢There was great support from the cheering crowd throughout the game with an official turnout of over 776 people in attendance. It was such a great occasion and a fab game to watch. For the ladies to play a final at a professional stadium was amazing and for us all to watch a local ladies football team play there was incredible. With special thanks to the mascots and SSE Wildcats Wymondham Girls' Football Centre for their support too.
Let's not forget the opponents – Kings Lynn, they played very well too with an excellent first-half display in their first cup final appearance.
Both teams carved out some great chances in an end-to-end first half. Great opportunities and goals from Hannah Waters, Laura Nicholls and a Summer Ward 20-yard belter helped Wymondham win 4-1.
Here you can read the full match report.
What a fantastic result from such a hard-working and dedicated team.
See the ladies collecting their cup winning trophy here.
You can listen to the reactions of the manager too.
Congratulations and well done ladies, to their management, club and supporters too, on your cup final win.
Tailor Made Resources are super proud to have supported you this season.
Here's to a well earned summer break for you all.
#NorfolkFootball #WomenInFootball #UpTheTown